Things You Need to Know About the Adoption Process in Utah
Child adoption in Utah can be done in different ways; it can be done by a step-parent, foster parent, relatives, single people, or a married couple. Adoption and foster care can also be done from care or through international adoptions.
The most common adoptions in the United States are step-parent adoptions, where a custodial parent remarries and the non-custodial parent renounces their parental rights so a stepfather or stepmother can proceed to adopt a child
There are different adoption options when adopting children in Utаh. Adoption can usually be done through:
Full adoption of a child across state lines or international adoptions must follow adoption laws stated in the Interstate Compact for the Placement of Children (ICPC).
If adoption is done through a private adoption agency, they usually have their adoption attorney who can provide adoption services to help you through the adoption process in court.
If you're planning to start a family through a Utah adoption (especially if you're planning to go for a private adoption), it is best to seek the legal assistance of an Orem adoption lawyer to help you in processing your adoption records and paperwork. While it is relatively easy to adopt in Utah, it is still ideal to hire adoption attorneys who can help you understand the different adoption laws, and help you avoid high adoption costs.
Who is Eligible to Adopt in Utah?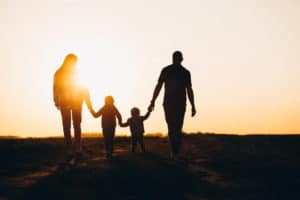 If you're looking to adopt and care for an adopted child, welcoming them into a nurturing and loving family as adoptive parents is first and foremost the most important qualification. Aside from these, you must also qualify under the following categories when adopting a child:
Under Utah adoption law, adoptable children can't be adopted by individuals who are cohabiting in a relationship that's not a legally binding marriage under state laws in Utah.

The

adoptive parent and child

must live under the same roof for at least six months. 

If you're a

stepparent

, to adopt, you must be married to the legal parent or birth parent of the child and have lived with them for at least one year. However, if the court finds a good cause for the adoptive parent to adopt the child at an earlier time, they may issue a court order allowing for adoption.

Married adults

who are planning to adopt children must have the consent of their spouse before they can adopt. 

Single adults

can also adopt in Utah. However, if they're unmarried but cohabits with another individual, they're not eligible to adopt.
Before a child can be placed for adoption and eligible for adoption, there should be a termination of parental rights of their biological parents. Birth parents must first give up their legal rights as parents either unwillingly or willingly. 
Adoptees or children for adoption who are 12 years old and above must also give their legal consent to start the adoption process.
How Much Does It Cost to Adopt in Utah?
Parenting and raising children can be expensive. The living expenses of raising a child until they are of legal age can cost about $245, 000. Aside from providing a forever family to adopted children, parents should provide the basic needs of children such as food, clothing, healthcare, etc. As adoptive families, you should be prepared to take this responsibility and be able to provide not just financially if you choose to adopt.
Unfortunately, there's no standard cost in adopting children in Utah. It can vary depending on your case, whether you're planning in adopting a baby, children with special needs, orphans, or foster children. But it is estimated that the average adoption costs in Utah (including the adoption fees) can range between free to almost $50, 000. 
Adoption through a foster care system or adoption programs can also be less expensive in general. It can usually cost less than $1,000, but they seldom place newborn infants into the adoption system but instead focus on older children. If your family is set on going for infant adoption, this adoption program might not be the best fit for you.
How an Orem Family Law Attorney Can Help
If you are looking into being an adoptive family, seeking help from an adoption lawyer is beneficial. The legal process of adopting a child can be overwhelming, but our Orem family law attorneys can help. Here at Gravis Law, we can provide you with the legal assistance you need in processing your adoption papers; whether it is for domestic adoption, international adoption, or through a foster care adoption. 
Every child deserves to have lifelong parents who can give them the love and care they need. Contact us today for a free consultation adoption information.