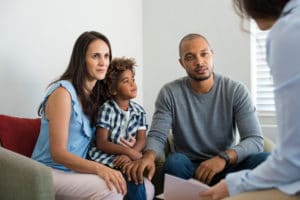 Independent or private adoptions are one of the most common types of adoption in Utah. Such adoptions do not require the assistance of an agency or public adoption agencies. In this type of adoption, adoptive parents may find their child from advocacy, doctors, friends, or family connections if they recommended the adoption. An adoptive parent may make a deal with a pregnant woman with the help of an adoption attorney to handle the adoption process and ensure that the adoption laws are complied with. Private adoptions may be open-adoption or closed adoption depending on the arrangement agreed upon before placement. Private adoptions require a rigorous investigation from Social Services and must then be approved by the court which can take several months to complete.
Can you be rejected as an adoptive parent?
Prospective adoptive parents will undergo training, adoption counseling, and a criminal background check. If they have a criminal history, such as a conviction for child abuse or neglect of a child, the home study will not approve the adoption application.
Private Adoptions vs. Independent Adoption
If you are interested in a foreign adoption, a private adoption agency may be more suited for you since they handle international adoption programs as well as domestic adoption.
Independent adoption is also suited for families that are comfortable with the risks involved because a birth mother may change her mind at the last second of giving the baby for adoption. The prospective adoptive family may bear the medical expenses in addition to the loss of the anticipated adopting a baby for the expectant adoptive parents are responsible financially for the post-adoption support.
Many people still choose private adoptions over agency adoption because of the following benefits:
Increased control – adoptive families have more control over the adoption process than agency adoptions and they have a bigger range of children to choose from.
More information – more extensive information about the adoptee's birth parents and families may be gathered than in an agency.
Faster search – an adopted child may be found sooner than in an agency
Immediate bonding – in an independent adoption, you do not need to go through foster care and being a foster family, immediately taking the baby can you buy ativan without prescription from the hospital for bonding and nurturing.
Cost of adoption
Private adoptions do not offer free adoptions unlike a public agency, but they are cheaper than private agency adoptions. Adoptive families may recover their expenses through the federal adoption tax credit.
If the adoption is made through private adoption agencies, the cost is greater for the following expenses (shouldered by the adoptive family):
Agency fees
Cost of adoption counseling
Medical care not covered by insurance
Home study
Training costs
Living expenses of the birth parents
In some states, the adoption law mandates that the expenses are incurred by the adoptive parent. However, in Utah, while the birth father can sign a relinquishment on the child's birth, the birth mother can only relinquish after 4 hours the birth of the child.
Types of Private Adoption
Identified adoption – is a form of private adoption where the birth parents and adoptive parents will go through a licensed adoption agency. The birth mother can feel confident that her child will have a future with an approved, loving family. However, the birth mother may still change her mind about placing the newborn or infant for adoption.
Adoption Attorneys –  those who do not want to use an agency may avail the service of an adoption attorney. They are bound by Bar Association professional standards of ethical practice and will give more assurance. If you are looking for this type, talking with an adoption lawyer will be helpful if you want to begin the process of adopting.
Adoption Facilitators – in this type, the facilitators will act as matchmakers and will allow the adoptive parents and birth parents to make their own placement arrangements. This type offers the least amount of supervision and may be prone to oversight.
Do you want to adopt a child in Utah?
If you have started to adopt, want to adopt a, be a foster-parent, know more about adoption law,s and are in need of assistance, our experienced family law attorneys can help you with the necessary information, paperwork, legal process and guidelines as well as open up adoption options that you might have to go through. Contact us at Utah Child Custody for more information and service adoption assistance.
Do you have questions or need help? Let's chat.